How to Make Your Man Photo Ready
Many women spare no expense to make sure they look their absolute best on their wedding day. From the dress, to the hair and makeup, down to the shoes. Everything is carefully planned and coordinated to be perfect. So why are grooms just throwing on a tux and showing up?  You will have your wedding photos for the rest of your life, so, why isn't your man prepping for them too? Here are four simple tips to make sure he looks just as good as you for the BIG day!
1. Skin Care: Keep it simple. Cleanse, exfoliate, moisturize. Asking him to do anything beyond brushing his teeth before bed may be overwhelming. Start with cleansing, I like a cleanser that has a gentle exfoliant built in. Cleanse the skin to remove all the impurities from the day and and exfoliant to unclog pores and refine the skin. Moisturizing, this can also be a two in one product that will soothe the skin post shaving and hydrate without adding shine or greasiness to the skin. This will create a great foundation for step two.
 2. Makeup: A true makeup artist will know how to make a man comfortable in her chair, and keep him looking natural. Men hear makeup and instantly think Boy George or Adam Lambert. It is the job of the makeup artist to  ease his fears through photo examples and a quality trial run. Makeup for men is very light, and clean.  It usually just involves evening out the skin tone, and adding a little powder to ensure there is no shine in the photographs (this can include the ears which can often appear red and more noticeable in photography).  By evening out the skin, we mean removing skin discoloration which can include dark circles, redness, and acne scars. This is all done while creating the illusion that the makeup is not even there.  Think of the local news anchor, he gets makeup and hair done everytime before going on air, but we can't tell!  At times, it can also include the taming of the eyebrows, and strategically tweezing stay hairs to keep him looking manly but well groomed.
3. Hair: a crisp well styled timeless cut is key to creating  wedding photos to last a lifetime. Asking your stylist for recommendations and encouraging him to splurge on a quality cut and appropriate product will make sure that he looks as dressed up as his tux. The stylist should also be able to give him tips on styling, like how much product to use, if the product should be used on wet or dry hair, and where and how to apply the product to achieve the desired style. It is not unusual for men to get their hair professionally styled on the wedding day, these services  include any clean up along the ears and hairline for missed or quick growing stray hairs.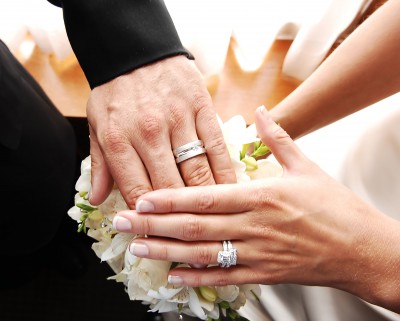 4. Hands: Everyone loves the picture of hands with wedding rings on. It's a wedding staple. The bride has perfectly manicured and painted nails that the photographer poses to cover the grooms dry callused hands and bitten nails. A quick and simple MANicure can fix all of those problems. Salons everywhere are catering to men but offering an express manicure so that men can have photo ready hands without the frills that can make them uncomfortable.  
Check out the Beauty Mark Ink